Differential Rebuilds are an essential part of vehicle ownership. It is inevitable that at some point in the lifetime of a vehicle, a differential rebuild will be required. The differential is considered a consumable component of the drivetrain. The friction generated from the rotational motion of the differential, causes components to wear despite lubrication. The differential component wear is exaggerated when under load, so driving style, vehicle payload and vehicle function (e.g. race car) all contribute to the lifespan of the differential.
How much does a differential rebuild cost?
A differential is a combination of a large variety of components. The cost of a differential rebuild will depend on the extent of the rebuild and the type of differential being rebuilt. A differential rebuild is a general term that simply means replacing components to get a differential operational again. However, differential rebuild kits vary from master rebuilds, where you can replace just about every component of the center section of your differential, to basic rebuild kits, which only contain certain components such as bearings, seals, o-rings, crush sleeves etc.
Master Differential Rebuild Kits
As the name suggests, the master rebuild kits come with every component you will need for your differential rebuild. Although the content will depend on the type of differential, generall a master rebuild kit would include:
| | |
| --- | --- |
| Pinion & Carrier Bearings | O-Rings |
| Pinion Seal | Gear Marking Compound |
| Pinion Shims | Loctite |
| Pinion Nut | Cover Gaskets/Silicone |
| Crush Sleeve | Carrier/Super Shims |
| Depth Shims | Slingers & Baffle |
| Ring Gear Bolts | |
Mini Differential Rebuild Kits
Mini rebuild kits include lesser components than the master rebuild kit and would be used on vehicles with lower mileage as some of their components may not need replacing.
| | |
| --- | --- |
| Pinion Bearings | Depth Shims |
| Pinion Seal | O-Rings |
| Pinion Shims | Gear Marking Compound |
| Crush Sleeve | |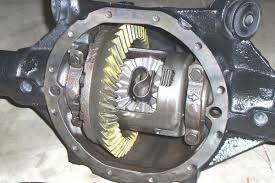 Basic Differential Rebuild Kits
As the name suggests, the basic kit includes components to do a basic differential rebuild.  In some cases, this may be enough and with less components, it will reduce the cost of the rebuild overall.
| | |
| --- | --- |
| Pinion & Carrier Bearings | Pinion Nut |
| Pinion Seal | Crush Sleeve |
| O-Rings | |
Pinion Differential Rebuild Kits
If only pinion bearings are required for the differential rebuild, a pinion differential rebuild kit has the necessary components to perform a rebuild.
| | |
| --- | --- |
| Pinion Bearings | Depth Shims |
| Pinion Seal | O-Rings |
| Pinion Shims | Gear Marking Compound |
| Crush Sleeve | |
Differential Spider Gear Rebuild Kits
Spider gear rebuild kits are designed specifically for rebuilding just those internal differential components.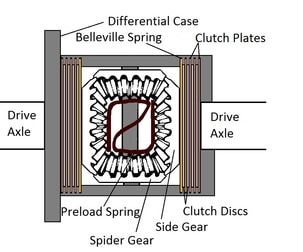 | | |
| --- | --- |
| Side Gears | Cross Pin Shaft |
| Pinion Gears | Cross Pin Bolt |
| S & P Gear Thrust Washers | |
Bearings & Seals Kits
Although replacing just bearings and seals is not exactly a differential rebuild, it still is rebuilding part of the rear end.
From the above variety of kits available and the components included, it is clear that the cost of a rebuild will depend on which kit is used, reflecting the extent of the differential rebuild. In addition, the amount of labour costs will depend on the time required to do the rebuild which will be higher for more extensive rebuilds and less for more basic rebuilds.
Choosing which kit to use requires expertise in differential rebuilding because evaluation of the differential damage is required. In addition, installation of the components correctly is important. Improper installation can result in leaking seals, premature bearing wear, premature ring and gear wear, lubrication issues and more. All of these will simply lead to another differential failure.
Another important factor is ensuring you are replacing the components that need replaced. This can result in early failure of the newly replaced components. In our opinion, this is a waste of time and money. It makes more sense to spend some extra money on replacing more of the consumable components than to risk damaging the new components resulting in another rebuild which costs more in the long run.
Is it worth rebuilding a differential?
If it is worthwhile for you to repair your vehicle and keep it on the road instead of replacing it, then it is worthwhile doing a differential rebuild. The advantage of getting a professional differential rebuild is that it will not be something you have to worry about again for a long time.
Another factor to consider is whether differential rebuilding is better than complete component replacement (if one is available). There is no doubt that rebuilding a differential is cheaper than replacing it with a new component simply because it reuses many of the bulky components which add to the cost of the new replacement component.
Clearly, the rebuild cost depends on which rebuild kit is used as more extensive rebuild kits cost more than basic ones and the amount of labour time required for the rebuild increases also. Once a vehicle gets a few years old, a differential rebuild is your only option as new replacement parts often go out of production.
Houston Rebuilt Axles are differential rebuild specialists serving customers across the country with door to door shipping. We can professionally rebuild your differential and ship it to you ready to install and with a warranty so you can have peace of mind in your differential. Contact us if you need assistance with your differential and we can arrange everything.