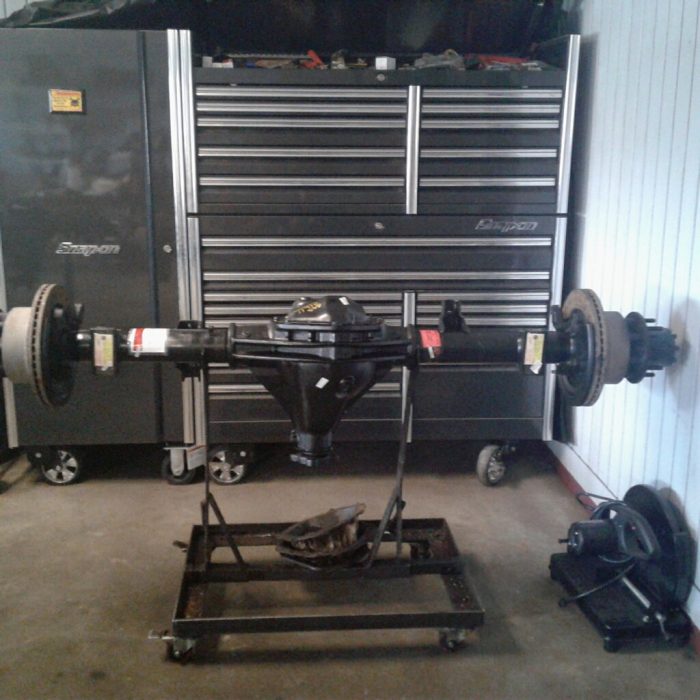 Our Rebuilt Dodge Ram 3500 Dually Rear Axle are for sale and come as a complete assembly is a turn key ready to install axle. Our 3500 dually rear ends are hand built in our shop. Each axle starts out as a bare housing. We will verify it is straight on a lathe then begin the assembly process. We use Dodge OEM gears to ensure durability and longevity. The bearings and seals are Timken type, the best money can buy. After the center is built, we will install axles, hubs, and rotors. Each axle is then filled with fluid, painted and will be ready for sale. No additional parts are needed for installation.
Call for price – 832-280-8489
The Dodge Ram 3500 rear axle changed throughout the years which can sometimes make it difficult to correctly identify your axle. This can be more difficult during the years where there was a change in the generation of Dodge Ram 3500. As a general guide, here are the specifications and years they occurred:
1993-2002 Dodge Ram 3500 Dually Rear Axle
The second generation Dodge Ram 3500 dual-rear-wheel one-ton came in both 2- and 4-wheel drive versions.
The 3500 Dodge Ram rear axle of this generation was made with a Dana 80 differential.
2003-2009 Dodge Ram 3500 Dually Rear Axle
The third generation Dodge Ram 3500 rear axle options for the 2500 and 3500 were the AAM 10.5″ and 11.5″ with 30-spline rear-axle shafts. The rear 11.5″ has a gear ratio "carrier split" at 3.73 and numerically higher.
2010-2019 Dodge Ram 3500 Dually Rear Axle
The fourth generation Dodge Ram 3500 rear axle has three rear axle ratios; 3.42, 3.73, and 4.10. The rear differential ring gear is increased from 11.5-inches, to 11.8-inches on H.O. trucks.
Learn more about the 1-Ton differentials for a Dodge Ram 3500 dually.
To find out more about the Dodge rear axles throughout the generations, check out our Dodge Chrysler Axle information page.
If you aren't sure about your axle, need a rebuild/replacement or need further information, contact our axle experts at Houston Rebuilt Axles using the button below.