1-Ton Chevy Axles
1-Ton Chevy Axles are strong durable axles used in a variety of GM applications. Like any automotive component, they will eventually wear out and require a rebuild or replacement.
Houston Rebuilt Axles can rebuild your chevy 1-ton axles to make it as good as new. We use OEM standard replacement parts and every rebuilt axle comes with our warranty so you can have peace of mind that your freshly rebuilt axle will last. We can also modify axles for hot rods and off-roading.
For axle rebuilds, we can ship your axle to us from anywhere in the United States. Once the rebuild is complete, we can ship the axle back to you with door-to-door service.
Rebuilt axles save you money over the cost of a new replacement (if available).
For more information about chevy 1 ton axles for sale, both rebuilds and rebuilt replacements, contact us at HRA
Here are some specifications for 1-ton chevy axles:
Dana 70 HD – 35 Spline
Dana 70 HD. Uses 469/453X carrier bearing & race.
•  Ring Gear Diameter:  10.500
•  Cover Bolts:  10
•  Ring Gear Bolts:  12
•  Spline Count:  35
•  Dropout:  No
•  Pinion Support:  No
•  Carrier Breaks:  4.10 / 4.56
•  Rear Suspension:  Solid
•  Pinion Nut Size:  1-5/16
Dana 70 HD Chevy/GM Applications
C30 1Ton (2WD): 1974 – 1988 (Rear)
C35/ C3500 1 Ton (2WD): 1974 – 1998 (Rear)
K30/ K3500 1 Ton (4WD): 1970 – 1989 (Rear)
K35/K3500 1 Ton (4WD): 1977 – 2000 (Rear)
P30 1 Ton Van: 1997 – 2001 (Rear)
P3500: 1997 – 1999 (Rear)
Savana 3500 1 Ton: 1996 – 2001 (Rear)
Dana 80 – 35 Spline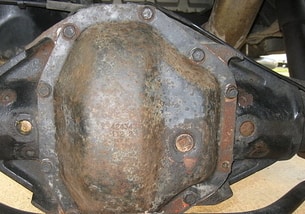 Dana 80
•  Ring Gear Diameter:  11.250
•  Cover Bolts:  10
•  Ring Gear Bolts:  12
•  Spline Count:  35
•  Dropout:  No
•  Pinion Support:  No
•  Carrier Breaks:  3.73 / 4.10
•  Rear Suspension:  Solid
•  Pinion Nut Size:  1-7/8
Dana 80 Chevy/GM Applications
C35/ C3500 1 Ton (2WD): 1992 – 2002 (Rear)
C3500: 1992 – 2001 (Rear)
G30 1 Ton: 1992 – 1995 (Rear)
K30/ K3500 1 Ton (4WD): 1990 – 1998 (Rear)
K35/K3500 1 Ton (4WD): 1992 – 2000 (Rear)
P30 1 Ton Van: 1997 – 2005 (Rear)
P3500: 1997 – 1999 (Rear)
GM 10.5″ 14 Bolt Truck
('84-'85)
•  Ring Gear Diameter:  10.500
•  Cover Bolts:  14
•  Ring Gear Bolts:  12
•  Spline Count:  30
•  Dropout:  False
•  Pinion Support:  True
•  Carrier Breaks:  4.10 / 4.56
•  Rear Suspension:  Solid
•  Pinion Nut Size:  1-1/2
GM 10.5″ 14 Bolt '84-'85 Chevy/GM Applications
C30 1Ton (2WD): 1984 – 1985 (Rear)
C35/ C3500 1 Ton (2WD): 1984 – 1985 (Rear)
G30 1 Ton: 1984 – 1985 (Rear)
G35/ G3500 1 Ton: 1984 – 1985 (Rear)
K30/ K3500 1 Ton (4WD): 1984 – 1985 (Rear)
K35/K3500 1 Ton (4WD): 1984 – 1985 (Rear)
GM 10.5″ 14 Bolt Truck
('88 & older)
Ring Gear Diameter:  10.500
•  Cover Bolts:  14
•  Ring Gear Bolts:  12
•  Spline Count:  30
•  Dropout:  No
•  Pinion Support:  Yes
•  Carrier Breaks:  4.10 / 4.56
•  Rear Suspension:  Solid
•  Pinion Nut Size:  1-1/2
GM 10.5″ 14 Bolt '88 & Older Chevy/GM Applications
C30 1Ton (2WD): 1973 – 1983 (Rear)
C30 1Ton (2WD): 1986 – 1988 (Rear)
C35/ C3500 1 Ton (2WD): 1973 – 1983 (Rear)
C35/ C3500 1 Ton (2WD): 1986 – 1988 (Rear)
G30 1 Ton: 1979 – 1983 (Rear)
G30 1 Ton: 1986 – 1988 (Rear)
G35/ G3500 1 Ton: 1979 – 1983 (Rear)
G35/ G3500 1 Ton: 1986 – 1988 (Rear)
K30/ K3500 1 Ton (4WD): 1972 – 1983 (Rear)
K30/ K3500 1 Ton (4WD): 1986 – 1988 (Rear)
K35/K3500 1 Ton (4WD): 1977 – 1983 (Rear)
K35/K3500 1 Ton (4WD): 1986 – 1988 (Rear)
GM 10.5″ 14 Bolt Truck
'89-'98
•  Ring Gear Diameter:  10.500
•  Cover Bolts:  14
•  Ring Gear Bolts:  12
•  Spline Count:  30
•  Dropout:  No
•  Pinion Support:  Yes
•  Carrier Breaks:  4.10 / 4.56
•  Rear Suspension:  Solid
•  Pinion Nut Size:  1-1/2
GM 10.5″ 14 Bolt '89-'98 & Older Chevy/GM Applications
C35/ C3500 1 Ton (2WD): 1989 – 1998 (Rear)
C3500: 1989 – 1998 (Rear)
Express Van 3500 1 Ton: 1996 – 1998 (Rear)
G30 1 Ton: 1989 – 1996 (Rear)
G35/ G3500 1 Ton: 1989 – 1996 (Rear)
K30/ K3500 1 Ton (4WD): 1989 – 1998 (Rear)
K35/K3500 1 Ton (4WD): 1989 – 1998 (Rear)
P30 1 Ton Van: 1997 – 1998 (Rear)
P3500: 1997 – 1998 (Rear)
Savana 3500 1 Ton: 1996 – 1998 (Rear)
GM 10.5″ 14 Bolt Truck
('99+)
•  Ring Gear Diameter:  10.500
•  Cover Bolts:  14
•  Ring Gear Bolts:  12
•  Spline Count:  30
•  Dropout:  False
•  Pinion Support:  True
•  Carrier Breaks:  4.10 / 4.56
•  Rear Suspension:  Solid
•  Pinion Nut Size:  1-1/2
GM 10.5″ 14 Bolt '99+ Chevy/GM Applications
C35/ C3500 1 Ton (2WD): 1999 – 2002 (Rear)
Express Van 3500 1 Ton: 1999 – 2015 (Rear)
Express Van 4500: 2009 – 2015 (Rear)
K30/ K3500 1 Ton (4WD): 1999 – 2000 (Rear)
K35/K3500 1 Ton (4WD): 1999 – 2000 (Rear)
P30 1 Ton Van: 1999 – 2005 (Rear)
Savana 3500 1 Ton: 1999 – 2015 (Rear)
Savanna 4500: 2009 – 2015 (Rear)
Silverado HD 3500 1 Ton: 2001 – 2013 (Rear)
For  A Chevy 1 Ton Axle
Call us on 1-832-280-8489
or Fill Out The Form Below